How can I contact Aventura Customer Service?
Aventura Clothing customer service representatives are available to assist you Monday through Friday from 6am to 6pm, and Saturday from 8am to 4pm PST.
To contact us by email or telephone, please click here.
How can I place an order with Aventura Clothing?
Our online store offers safe and convenient shopping 24 hours a day, 7 days a week. Simply navigate through our site to select products and add them to your shopping bag using the "Add to Bag" button. When you are ready to check out, click on the shopping bag in the upper-right corner of your screen. You may then review the items in your shopping bag, remove or add more items, and then go through our secure checkout process to purchase the items in your shopping bag.
Canadian Customers: Sportables represents Aventura Clothing in Canada. Please contact them for a retail location in your area. Phone: 800-563-2746 • Email: info@sportables.ca
For information on ordering by phone, fax, or mail, please click here.
What are your shipping and handling charges?
We offer FREE standard US shipping on orders over $79*. Products ordered with standard shipping normally arrive within 7-10 business days after placing your order. Two-day, next day and international shipping are available for an additional charge. Free shipping applies to the NET amount of your order.
*Loyalty program members receive a discount on shipping according to their membership level. Click here for more information.
What forms of payment do you accept?
We accept all major credit cards (Visa, MasterCard, American Express and Discover) on our web site, as well as over the phone (sorry, no checks, money orders, or CODs with mail orders.) All prices online are shown in U.S. currency. We no longer accept checks.
For information on ordering by phone, fax, or mail, please click here.
What is your guarantee and returns policy?
Everything we sell is fully guaranteed. If for any reason you are not satisfied with your purchase, you may return it within 90 days for a prompt and courteous exchange or refund of your purchase price. In addition, all products are guaranteed from defects for a full year.
For more information on processing returns and exchanges, please click here.
How can I send back an item that is defective?
You have one year from date of purchase to return an item that has a manufacturer defect. Items must be in clean condition and does not cover normal wear and tear. Send item to:

Aventura Clothing
1415 Greg St Suite 101
Sparks, NV 89431
Does Aventura Clothing sell gift certificates/gift cards?
Not at this time.
Can I send a gift with no receipt included?
Yes! When sending a gift, enter a message in the "Gift Message" field on the Shipping Info page during checkout and a card will be included with your message on it. (Like "Happy Birthday! Love Mary") The invoice will not be included in these shipments.
Why is the color of my product different in person from what I saw on your website?
We make every effort to display our clothing and accessories as accurately as possible; however, actual colors may vary from the color on your screen due to monitor color variations. Customer service would be happy to answer any questions you may have about our products while you are shopping. You can contact customer service easily through live chat or by calling 1-800-921-1655. We also offer a return/exchange policy if you are not satisfied with your purchase. Please see our returns and exchanges page for more details.
How can I get a catalog mailed to me?
We are not currently printing a catalog. You can sign up for our weekly newsletter at the bottom of this page to get the latest updates on our products.
Does Aventura Clothing have an email list? How can I start receiving emails?
Yes, Aventura Clothing does have an email list. To signup, enter your email address at the bottom of this page.
Is it safe for me to order online?
We always use industry-standard encryption technologies when transferring and receiving consumer data exchanged with our site. We have appropriate security measures in place in our physical facilities to protect against the loss, misuse or alteration of information that we have collected from you at our site.
For more information on our privacy and security policies, please click here.
What are the hours & location of your Outlet Store?
Our Outlet Store is located at 1415 Greg Street in Sparks NV -- Just 1 block East of Rock Blvd.
We are open Monday-Friday from 10am to 6pm and Saturday from 10am to 4pm. 775-353-3434 or 888-357-3567. To go to our Outlet Store web site click here.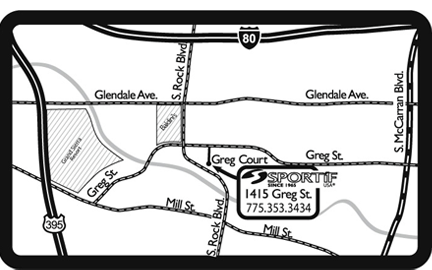 Where can I find more information about the Loyalty Reward Program?
For more information on our Loyalty Reward Program, please click here.